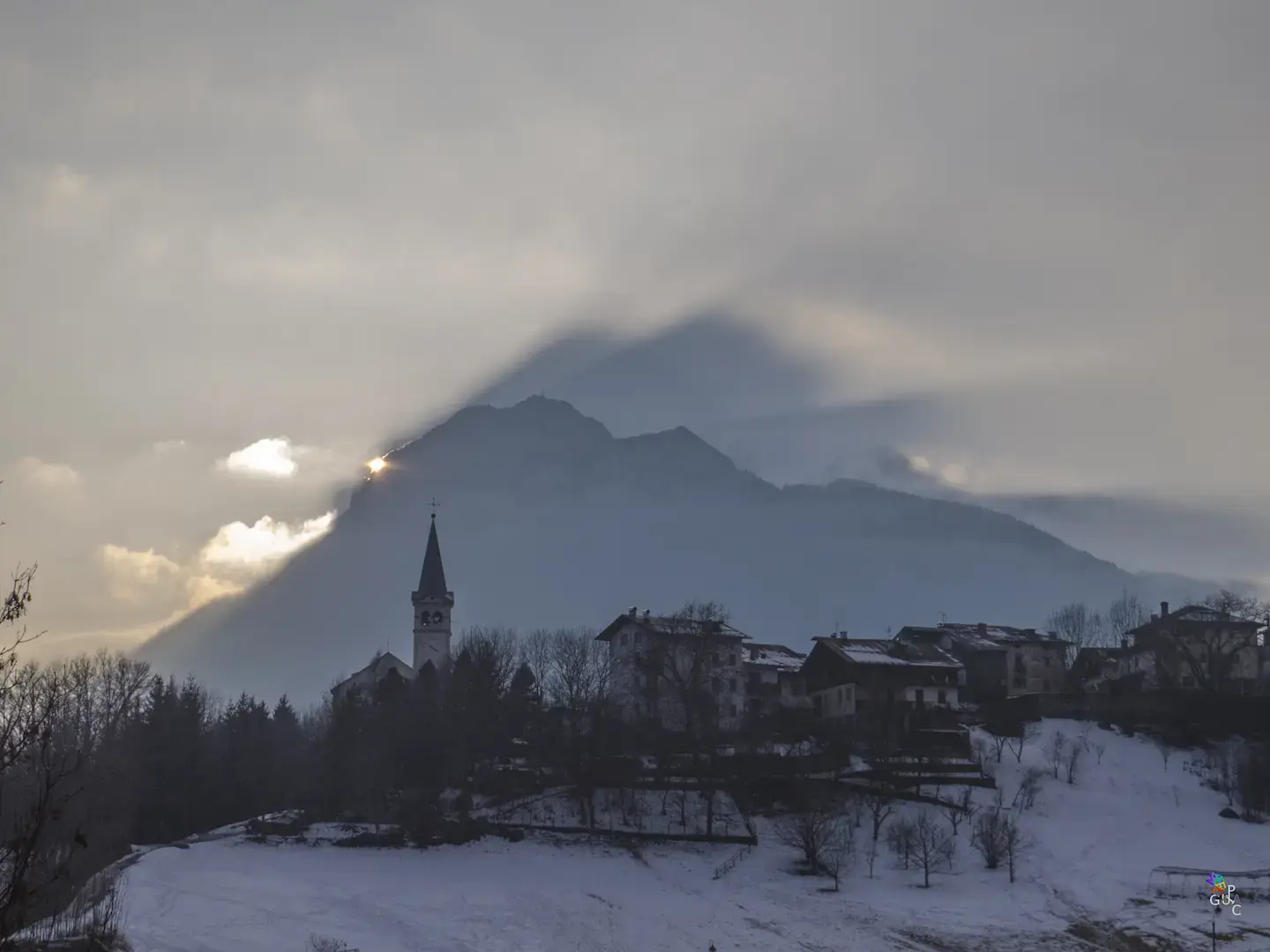 The Shadow on Mount Rite projects in the clouds
Era un tardo pomeriggio con tutto intorno una lieve foschia.
Mi trovavo a percorrere la SS 51 che da Vodo di Cadore arriva a Peaio e quel chiarore filtrato da questa nebbiolina trasformava il Cadore in Candore.
Mi accorsi che i boschi delle basse vette presso Peaio, nascondevano il Sole e le ombre degli alberi si proiettavano in alternanza ai raggi da esso emanati.
Avevo avuto già avuto modo di notare un simile effetto di contrasto luci-ombre del bosco ma invertito, con la proiezione delle ombre verso il basso, dovuto all'altezza del Sole delle 10 del mattino.
Mi recai a Valle di Cadore e mi posizionai davanti ad un imbiancato campo aperto da dove potevo godere dell'ottima vista del Monte Rite e della deliziosa chiesetta di Valle.
Il Sole tramontava dietro il Rite e aspettai che si avvicinasse alla montagna per verificare se l'ombra si fosse innalzata per quella persistente lieve foschia.
Più il Sole si avvicinava e più si formavano le ombre del Rite che si innalzavano verso le nuvole. Avendo avuto conferma della formazione di questo effetto, posizionai la mia telecamera, feci qualche foto e, con mio stupore osservai l'ombra proiettarsi nel cielo e con essa il dettaglio perfetto del profilo delle creste del Rite.
Ecco uno scatto effettuato e, a seguito, il video. Buona visione.