All Moon's Phases: The Synodic Month in August 2019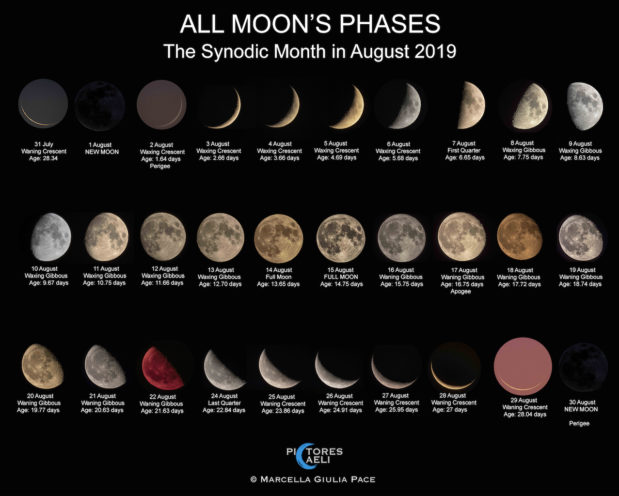 Il mese di agosto 2019 ha contenuto in sé tutte le fasi lunari al completo,un mese sinodico quindi contenuto in un mese di calendario.
Altra particolarità è che nello stesso mese si son presentati due nuviluni, un fenomeno che accade ogni 29 mesi. Questa seconda "New Moon" in un mese, viene definita Black Moon.
Ho scelto di tentare, in questo mese, di raccogliere tutta la lunazione completa confidando nella calda e secca estate Siciliana..
Così è stato. Sono riuscita a riprendere tutte le fasi giorno per giorno da Ragusa (Sicily).
Nell'immagine in alto presento tutte le Lune raccolte e con esse riporto la didascalia con l'esatta età di ogni Luna nel momento dello scatto.
Ho volutamente lasciato intorno alle "Thin Moon" un alone con il colore del cielo che racconta la loro breve permanenza in cielo poco prima dell'alba o poco dopo il tramonto.
Anche le lune hanno colori differenti e ciò è dovuto all'altezza del nostro satellite nel momento dello scatto. La luna del 22 agosto, ad esempio, è molto rossa perché era appena sorta e quindi sotto effetto di Scattering e rifrazione.
La Luna nuova, l'ho voluta invece rappresentare usando la parte di Luna cinerea che ho ripreso durante una delle ultime fasi di Luna Calante.
Anche il Novilunio del 30 Agosto è stato rilevante poichè si è trattato di una Super New moon: la Luna Nuova era al Perigeo e quindi ad una minima distanza dalla Terra ( 357.314 Km).
Nell'immagine sottostante ho voluto accoppiare le fasi opposte della Luna rispetto al Plenilunio.
 All Photos:
Thin Moon and colors of the sky
La sottile falce di Luna che si è presentata la mattina del 29 agosto, presentava la forma a Barchetta o "Luna Coricata", con entrambe le cuspidi rivolte verso l'alto e la falce illuminata parallela all'orizzonte
Cinerea Moon
La Luna Cinerea sorge sul monte Pelmo (Belluno – Italy) 2015
COMPARISON "MONN LIGHT"
The shift of the lunar twilight
Il Terminatore della Luna è quella linea che separa la zona in ombra da quella illuminata dalla luce del Sole.
Intorno al terminatore, quindi nel crepuscolo lunare, è possibile distinguere mari e crateri in maniera dettagliata e tridimensionale grazie all'effetto luci/ombre che svelano tutti i corrugamenti del suolo lunare visibili dalla Terra.
Il Terminatore si sposta con una velocità di circa 16Km/h lungo la linea dell'equatore lunare equivalente a circa 8 secondi di arco l'ora.
Ecco come il terminatore scopre il Sinus Iridum nell'arco di 3 ore solari.
Software: Mooncal.org
Oltre all'aiuto del Software per risalire all'età della Luna, ringrazio Giuseppe De Donà che mi ha successivamente fornito un programmino da lui realizzato per calcolare in maniera esatta l'età della Luna.
https://moon.nasa.gov/resources/154/moon-phase-and-libration-2018/