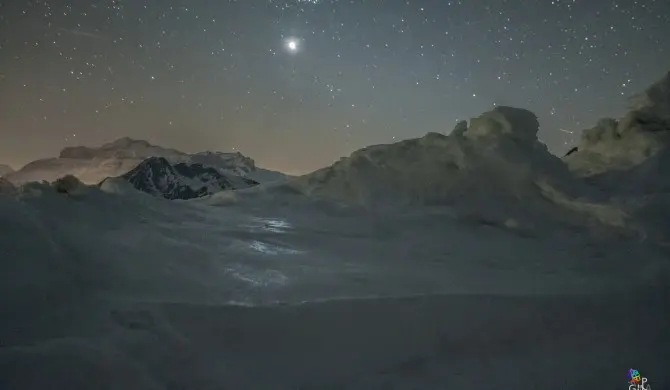 Ombre e riflessi di Venere, Giove, Marte e Sirio
RIFLESSO DI VENERE
I primi giorni del mese di dicembre dell'anno 2013 la magnitudine di Venere ( nelle foto Mag. App. -4.37) fu tale da riflettersi sul mare Mediterraneo e personalmente, prima di allora, non avevo mai avuto modo di notare i riflessi luminosi di corpi celesti eccezion fatta per la Luna e il Sole. La luce di Venere durante quelle notti fu indisturbata; durante la sua breve permanenza nel cielo notturno non furono presenti corpi celesti più luminosi, non fu presente quindi la Luna che era anche in fase di novilunio, solo Venere " andava in onda".
Attesi la nascita della prima falcetta di Luna che avvenne il 5 dicembre, per scoprire cosa sarebbe accaduto al riflesso venusiano. Quella notte, rimasi colpita dalla delicatezza della falce illuminata che seppur più luminosa di Venere (Mag.App.-4.38), tentò di contenersi lasciando spazio al riflesso della sua insolita compagna. Entrambe a riflettere, a contemplare, a meditare nel " Mediterraneo" in un immaginario silenzio cosmico. La foto fu scattata da Marina di Ragusa intorno le ore 18.30 del giorno cinque del mese di Dicembre nell'anno 2013
Ecco la galleria completa:
Riflesso di Venere sul lago di Mosigo, S.Vito di Cadore (Bl) 7 Marzo 2015
Il 9 Aprile 2015 insieme all'amica astrofotografa Giorgia Hofer ci recammo a Passo Giau (Bl) con l'idea di Giorgia di fotografare la luce zodiacale, la congiunzione di Venere con le Pleiadi e il Passaggio dell'ISS .  Raggiunti gli obiettivi ci dedicammo al riflesso ed alle ombre di Venere sul manto nevoso. Ecco i risultati:
Riflesso di Venere (m:-3.53) sulla neve:
Bellissimo lo spostamento del riflesso sul manto nevoso visibile in questo video realizzato da Giorgia Hofer:
Le nostre ombre proiettate sulla neve dalla luce di Venere:
Il 12 Aprile tentammo lo stesso esperimento a Casera Razzo (Bl) 1783 s.l.m., una magica località totalmente priva di inquinamento luminoso suggerita da Giorgia e a lei molto famigliare poiché meta prediletta delle sue postazioni fotografiche notturne.
Il cielo presentava una lieve foschia che affievoliva la magnitudine di Venere che quella sera raggiungeva -3.55.
L'ombra ha risentito di questo calo luminoso ma si è presentata ugualmente, anche se in forma più lieve, sotto le mie gambe.
Ringrazio Giorgia per la sua passione, i suoi utili consigli, e per questo scatto. La nostra ricerca continua…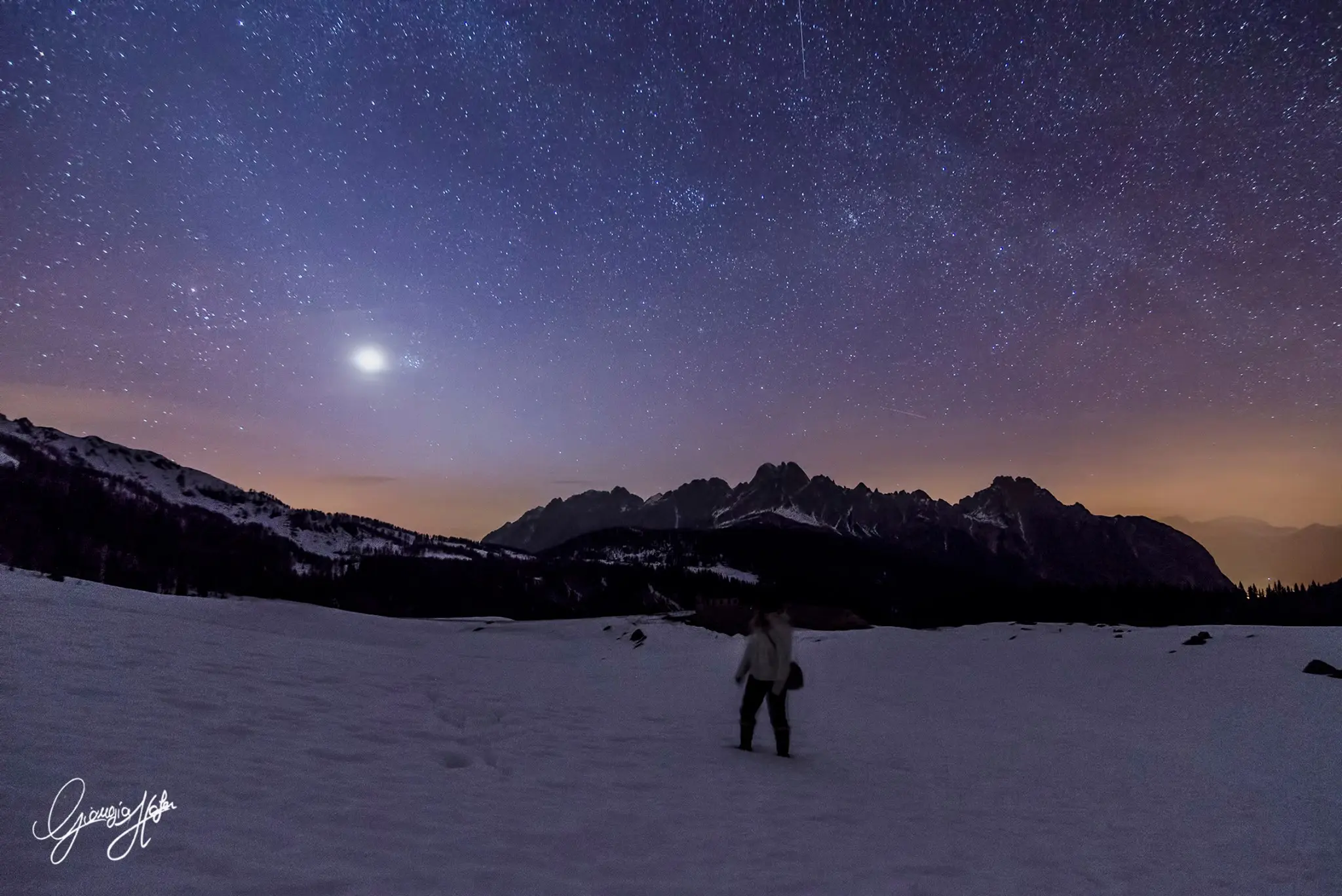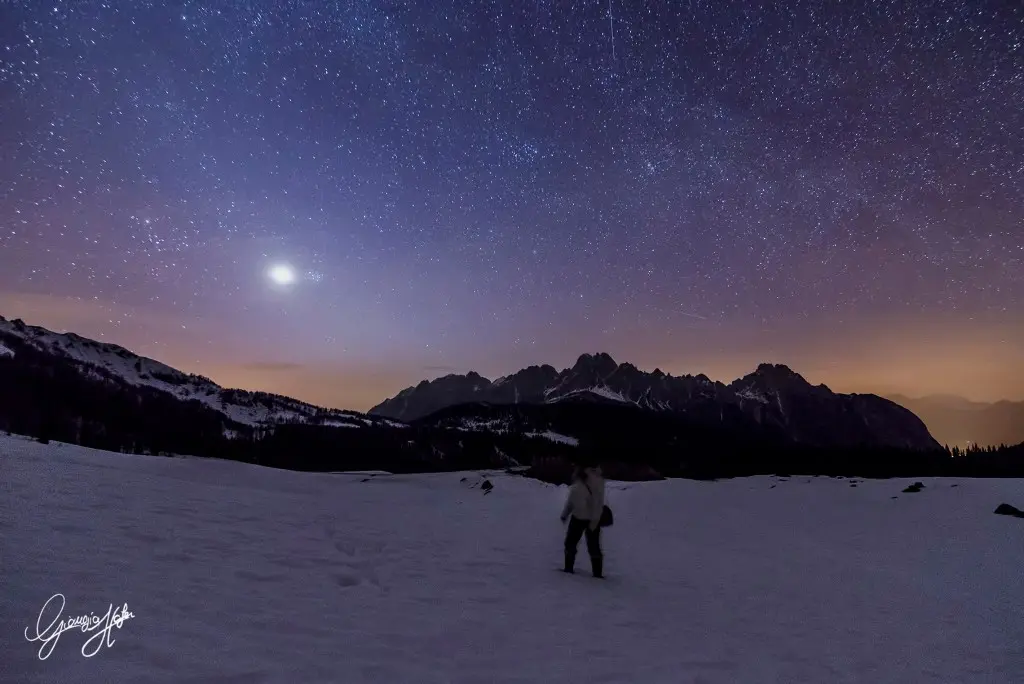 Limedes lake ( Cortina D' ampezzo-Belluno), 27.5.15 11.30 p.m.
In this image you can see the detail of the reflection of Venus across the lake and a shadow of a mountain pine generated by the light of Venus itself.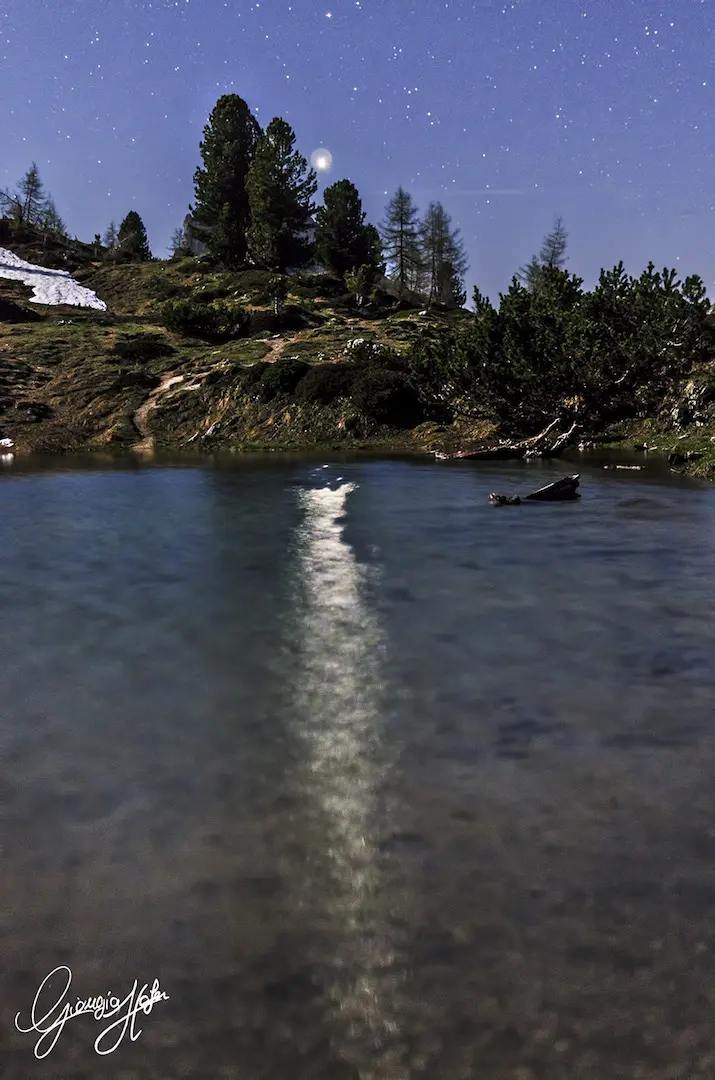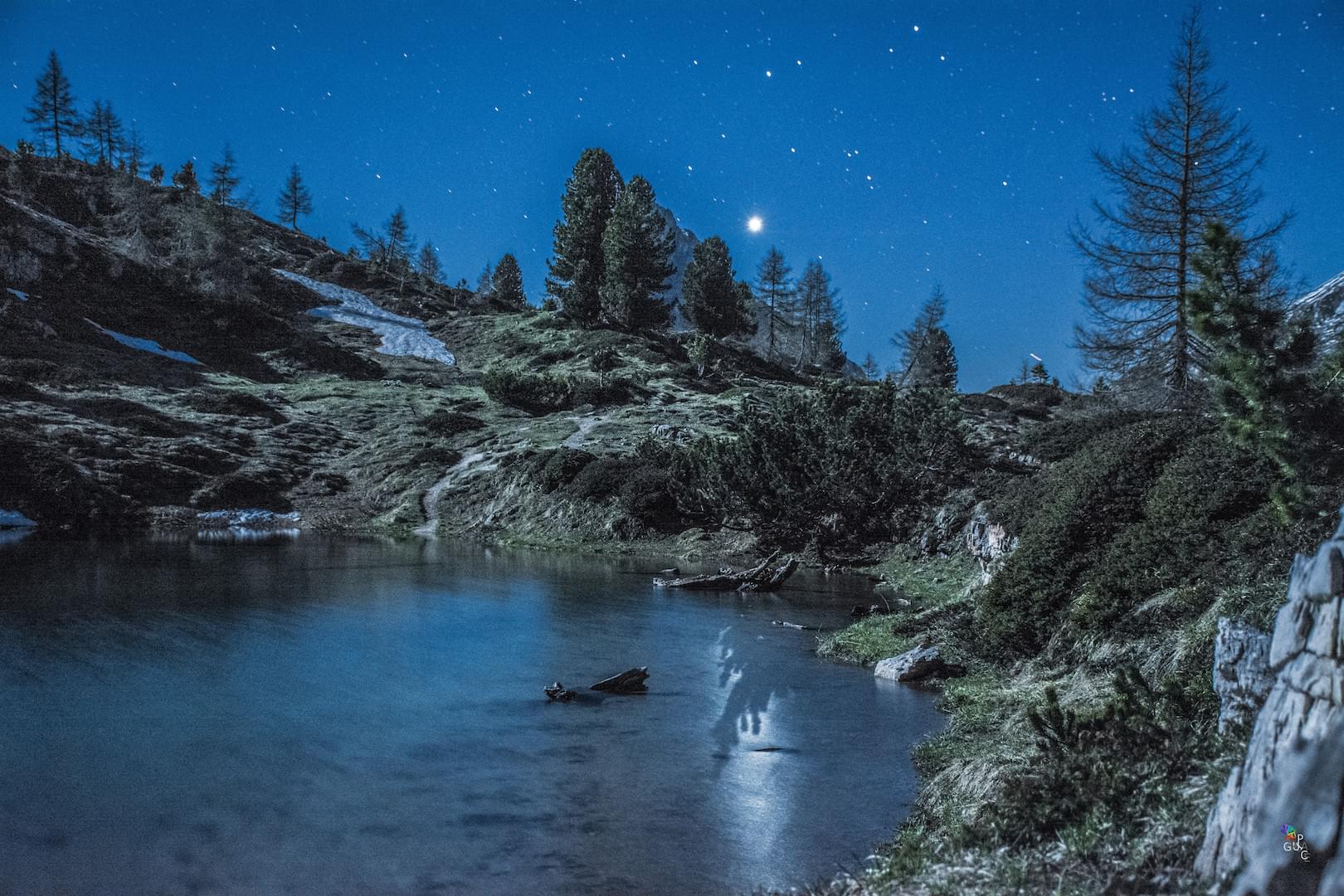 ******
VIDEO RIFLESSO DI VENERE E GIOVE
26.6.2015 Il riflesso di Venere in compagnia di quello di Giove sia alternano ai riflessi delle luci colorate del porto di Marina di Ragusa – Sicilia in questo video:
******
RIFLESSO DI GIOVE
31.6.2017 Il riflesso della Luna al primo quarto e quello di Giove sul mar Mediterraneo (Sampieri -Ragusa-Sicilia)
*************
RIFLESSO DI MARTE
Il 23 giugno del 2018 alle ore 22:49 Marte sorge nel Capricorno dall'orizzonte della costa ragusana. L'immagine mostra una elevazione di Marte, ripreso alle 23.30, di circa 6° e con una magnitudine apparente di -1,74. Nonostante la presenza della Luna in fase crescente, il riflesso si distingue bene nelle acqua della conca di Cirica, illuminate dalla Luna.
Sopra la costellazione del Sagittario è visibile Saturno
******
RIFLESSO DI SIRIO
Anche la stella più luminosa (-1,46), Sirio , si riflette nelle acque del Mediterraneo. Seppur molto fievole, un occhio attento può accorgersi della sua scia di luce su calme acque quando è basso sull'orizzonte. Scatti del 13 dicembre 2017 presso Porto Ulisse (Rg)