"Soligrafia" sul Monte Pelmo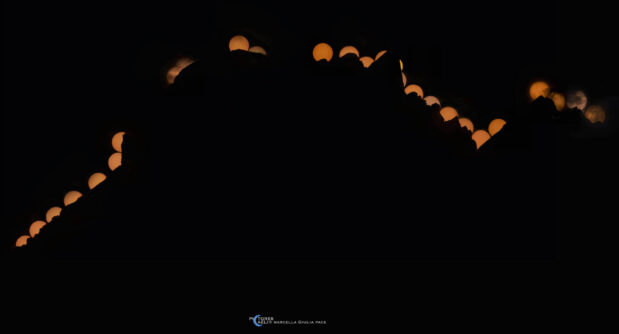 Dopo l'amplitudine sulla linea dell'orizzonte marino che dimostra lo spostamento del Sole al tramonto rispetto al Punto Ovest, ecco il secondo esperimento di ripresa quotidiana del Sole.
 Questa la posizione / My position
Guardare ogni giorno il punto in cui il Sole tramonta o sorge ci fa sperimentare che il Sole non tramonta sempre a occidente o sorge sempre a oriente e se potessimo raccogliere tutti i soli nel momento in cui toccano l'orizzonte marino nell'arco di un anno, vedremmo questi soli muoversi lungo la linea dell'orizzonte, rispetto all'ovest, a nord quando ci avviciniamo al solstizio d'estate e a sud quando ci avviciniamo al solstizio d'estate d'inverno.
Questa linea è chiamata "Amplitudine occasa"
Prendere appuntamento con il sole che sorge o tramonta sulla linea dell'orizzonte marino è molto semplice, basta consultare un almanacco e presentarsi davanti all'orizzonte all'ora stabilita ma quando l'orizzonte visibile è il profilo di una montagna allora la cosa cambia.
Per più di un mese il Pelmo è stato il mio orizzonte dove ogni giorno vedevo tramontare il sole.
Ero nel periodo del solstizio d'inverno e avevo notato che il sole stava tramontando sul lato sinistro della montagna.
Da qui l'idea di sfruttare il movimento quotidiano del Sole e filmare, con un teleobiettivo dotato di filtro astrosolare, il Sole quando, al tramonto, avrebbe mostrato il profilo delle rocce.
Dal 12 gennaio 2018, ogni giorno, ho atteso che il Sole si mettesse alle spalle del Monte Pelmo.
A differenza della ripresa del disco solare al tramonto su un orizzonte marino, ho avuto necessità quindi dell'utilizzo di un filtro solare per poter effettuare gli scatti, essendo il Sole ancora molto alto quando tocca la montagna.
Ho scattato nel momento stesso in cui il Sole ha toccato il bordo della roccia.
Fotografare il tramonto tutti i giorni mi avrebbe permesso di ricostruire come un puzzle il profilo dell'intera montagna.
Ogni giorno il Sole, proprio come un pittore romantico, ha svelato nuovi pezzi del profilo della montagna.
Così ho seguito il tramonto per poco più di un mese, non avevo bisogno di un appuntamento con un orario programmato dagli almanacchi, dovevo sottomettermi alle vette e ai pinnacoli dolomitici per poter attendere l'istante esatto in cui il Sole avrebbe attraversato loro.
L'immagine finale è quindi la sagoma del Monte Pelmo disegnata dal disco solare al tramonto. Si tratta della somma di 15 diversi Tramonti (dal 12 gennaio al 21 febbraio 2018).
Gli spazi dove non c'è il Sole sono dovuti alla presenza delle nuvole.
Nei giorni 11, 16, 20 e 22 febbraio ho potuto inserire più immagini del Tramonto perché l'inclinazione della roccia era parallela al percorso del Sole. In particolare il 15 febbraio il Sole, come un alpinista, ha seguito tutta la ripida dorsale della montagna. La mia posizione di scatto è sempre stata la stessa durante tutto il periodo.
La mia posizione di scatto era sempre la stessa durante tutto il periodo.
Non vi è quindi ulteriore calcolo per effettuare l'ora esatta del tramonto in quanto non è presente alcuna rifrazione.
T
Making an appointment with the sun rising or setting on the marine horizon line is very simple, just consult an almanac and present yourself in front of the horizon at the established time but when the visible horizon is the profile of a mountain then the thing changes.
Looking every day at the point where the Sun sets or rises makes us experience that the Sun does not always set in the west or always rises in the east and if we could collect all the sun the moment they touch the marine horizon  over a year, we would see these suns move along the line of the horizon, relative to the west, north as we approach the summer solstice, and south as we approach the summer solstice winter. This line is called "Occasive Amplitude"
I lived a period of my life in the Venetian Dolomites and I found accommodation with a south/west view of one of the most evocative mountains of the Dolomites: the Pelmo.
Pelmo was my horizon where I would see the sun set every day.
I was at the time of the winter solstice and I had noticed that the sun was setting on the left side of the mountain.
Hence the idea of exploiting the daily movement of the Sun and filming, with a telephoto lens equipped with an astrosolar filter, the Sun when, as it was setting, it would show the profile of the rocks.
Photographing the sunset every day would have allowed me to reconstruct the profile of the whole mountain like a puzzle. So I followed the sunset for just over a month, I didn't need an appointment with a time programmed by almanacs, I had to submit to the Dolomite heights and pinnacles to be able to wait for the exact moment in which the Sun would cross them.
The final image is therefore the silhouette of Mount Pelmo designed by the solar disk at sunset.
The final image is the sum of 15 different Sunsets (from 12 January to 21 February).
The spaces where there's no Sun are due to the presence of clouds. On 11, 16, 20 and 22 February I was able to insert more pictures of the Sunset because the rock's inclination was parallel to the Sun's path.
In particular, on the 15th of February the Sun, like a mountaineer, followed the whole ridge steep mountain. My shooting position was always the same during the whole period.My shooting position was always the same (https://goo.gl/maps/wmV2U4fizpE2)
di seguito i singoli scatti dei rispettivi giorni
( nelle immagini del Sole tra il 6 e il 14 febbraio si nota la presenza della Macchia Solare AR 2699):
12 Gennaio 2018
Contatto con la roccia: 15.18
Tramonto: 15.21
Azimut: 222,o°
Tramonto all'orizzonte: 17.04
15 Gennaio 2018
Contatto con la roccia: 15.21
Tramonto: 15.23
Azimut: 222,3°
Tramonto all'orizzonte: 17.07
18 Gennaio 2018
Contatto con la roccia: 15.22
Tramonto: 15.25
Azimut: 227,0°
Tramonto all'orizzonte: 17.11
21 Gennaio 2018
Contatto con la roccia: 15.24
Tramonto: 15.27
Azimut: 227,6°
Tramonto all'orizzonte: 17.14
24 Gennaio 2018
Contatto con la roccia: 15.27
Tramonto: 15.29
Azimut: 228,3°
Tramonto all'orizzonte: 17.17
27 Gennaio 2018
Contatto con la roccia: 15.28
Tramonto: 15.31
Azimut: 229,1°
Tramonto all'orizzonte: 17.20
29 Gennaio 2018
Contatto con la roccia: 15.27
Tramonto: 15.30
Azimut: 229,2°
Tramonto all'orizzonte: 17.22
6 Febbraio 2018
Contatto con la roccia: 15.30
Tramonto: 15.32
Azimut: 231,0°
Tramonto all'orizzonte: 17.31
Presenza della Macchia Solare / Sunspot: AR 2699
7 Febbraio 2018
Contatto con la roccia: 15.31
Tramonto: 15.33
Azimut: 231,2°
Tramonto all'orizzonte: 17.32
Presenza della Macchia Solare / Sunspot: AR 2699
11 Febbraio 2018
Contatto con la roccia: 15.34
Tramonto: 15.40
Azimut: 233,6°
Tramonto all'orizzonte: 17.36
Presenza della Macchia Solare / Sunspot: AR 2699
14 Febbraio 2018
Contatto con la roccia: 15.44
Tramonto: 16.06
Azimut: 239,2°
Tramonto all'orizzonte: 17.39
Presenza della Macchia Solare / Sunspot: AR 2699
15 Febbraio 2018
Contatto con la roccia: 15.45
Tramonto: 16.07
Azimut: 239,7°
Tramonto all'orizzonte: 17.40
16 Febbraio 2018
Contatto con la roccia: 15.47
Tramonto: 16.07
Azimut: 239,9°
Tramonto all'orizzonte: 17.42
20 Febbraio 2018
Tramonto: 16.06
Azimut: 240,9°
Tramonto all'orizzonte: 17.46
21 Febbraio 2018
Tramonto: 16.10
Azimut: 241.9°
Tramonto all'orizzonte: 17.47
Press
Una foto, 15 tramonti. L'eccezionale scatto che racconta il viaggio del Sole sul Monte Pelmo
https://epod.usra.edu/blog/2018/05/silhouettes-of-mount-pelmo-made-by-the-setting-sun.html