"Soligrafia" sul Monte Pelmo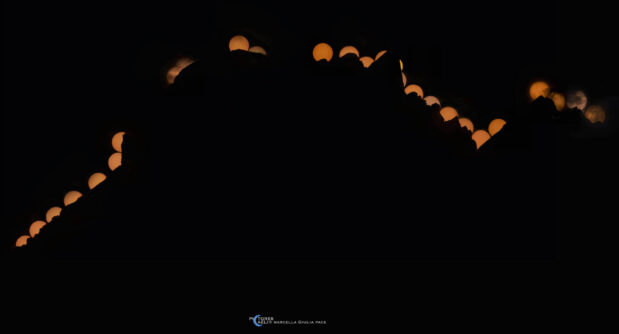 Secondo esperimento di ripresa quotidiana del Sole, dopo l'amplitudine sulla linea dell'orizzonte marino che dimostra lo spostamento del Sole al tramonto rispetto al Punto Ovest.
 Questa la posizione / My position
L'immagine è la sagoma del Monte Pelmo proiettata dal disco solare al tramonto.
Dal 12 gennaio 2018, ogni giorno, ho atteso che il Sole si mettesse alle spalle del Monte Pelmo.
Usando un filtro astrosolare, ho scattato nel momento stesso in cui il Sole ha toccato il bordo della roccia.
Ogni giorno il Sole, proprio come un pittore romantico, ha svelato nuovi pezzi del profilo della montagna.
Alla fine, ho composto la silhouette come se fosse un puzzle. L'immagine finale è la somma di 15 diversi Tramonti (dal 12 gennaio al 21 febbraio).
Gli spazi in cui non c'è il Sole sono dovuti alla presenza di nuvole.
L'11, il 16, il 20 e il 22 febbraio sono riuscita a inserire più immagini del Tramonto perché l'inclinazione della roccia era parallela al percorso del Sole.
In particolare, il 15 febbraio il Sole, come un alpinista, è tramonto trascinandosi per tutto il fianco destro del Pelmo.
La mia posizione di scatto era sempre la stessa durante tutto il periodo.
A differenza della ripresa del disco solare al tramonto su un orizzonte marino, ho avuto necessità quindi dell'utilizzo di un filtro solare per poter effettuare gli scatti, essendo il Sole ancora molto alto quando tocca la montagna.
Non vi è quindi ulteriore calcolo per effettuare l'ora esatta del tramonto in quanto non è presente alcuna rifrazione.
This image is the silhouette of Mount Pelmo designed by the solar disk at sunset. 
From January 12, 2018, every day, I was waiting for the Sun to set behind Mount Pelmo. Using an astrosolar filter, I shot the very moment when the Sun touched the edge of the rock. Every day the Sun, just like a romantic painter, has unveiled new pieces of the mountain's profile. Eventually, I composed the silhouette as if it were a puzzle. The final image is the sum of 15 different Sunsets (from 12 January to 21 February).
The spaces where there's no Sun are due to the presence of clouds. On 11, 16, 20 and 22 February I was able to insert more pictures of the Sunset because the rock's inclination was parallel to the Sun's path. 
In particular, on the 15th of February the Sun, like a mountaineer, followed the whole ridge steep mountain. My shooting position was always the same during the whole period.
di seguito i singoli scatti dei rispettivi giorni
( nelle immagini del Sole tra il 6 e il 14 febbraio si nota la presenza della Macchia Solare AR 2699):
12 Gennaio 2018
Contatto con la roccia: 15.18
Tramonto: 15.21
Azimut: 222,o°
Tramonto all'orizzonte: 17.04
15 Gennaio 2018
Contatto con la roccia: 15.21
Tramonto: 15.23
Azimut: 222,3°
Tramonto all'orizzonte: 17.07
18 Gennaio 2018
Contatto con la roccia: 15.22
Tramonto: 15.25
Azimut: 227,0°
Tramonto all'orizzonte: 17.11
21 Gennaio 2018
Contatto con la roccia: 15.24
Tramonto: 15.27
Azimut: 227,6°
Tramonto all'orizzonte: 17.14
24 Gennaio 2018
Contatto con la roccia: 15.27
Tramonto: 15.29
Azimut: 228,3°
Tramonto all'orizzonte: 17.17
27 Gennaio 2018
Contatto con la roccia: 15.28
Tramonto: 15.31
Azimut: 229,1°
Tramonto all'orizzonte: 17.20
29 Gennaio 2018
Contatto con la roccia: 15.27
Tramonto: 15.30
Azimut: 229,2°
Tramonto all'orizzonte: 17.22
6 Febbraio 2018
Contatto con la roccia: 15.30
Tramonto: 15.32
Azimut: 231,0°
Tramonto all'orizzonte: 17.31
Presenza della Macchia Solare / Sunspot: AR 2699
7 Febbraio 2018
Contatto con la roccia: 15.31
Tramonto: 15.33
Azimut: 231,2°
Tramonto all'orizzonte: 17.32
Presenza della Macchia Solare / Sunspot: AR 2699
11 Febbraio 2018
Contatto con la roccia: 15.34
Tramonto: 15.40
Azimut: 233,6°
Tramonto all'orizzonte: 17.36
Presenza della Macchia Solare / Sunspot: AR 2699
14 Febbraio 2018
Contatto con la roccia: 15.44
Tramonto: 16.06
Azimut: 239,2°
Tramonto all'orizzonte: 17.39
Presenza della Macchia Solare / Sunspot: AR 2699
15 Febbraio 2018
Contatto con la roccia: 15.45
Tramonto: 16.07
Azimut: 239,7°
Tramonto all'orizzonte: 17.40
16 Febbraio 2018
Contatto con la roccia: 15.47
Tramonto: 16.07
Azimut: 239,9°
Tramonto all'orizzonte: 17.42
20 Febbraio 2018
Tramonto: 16.06
Azimut: 240,9°
Tramonto all'orizzonte: 17.46
21 Febbraio 2018
Tramonto: 16.10
Azimut: 241.9°
Tramonto all'orizzonte: 17.47
Press
https://epod.usra.edu/blog/2018/05/silhouettes-of-mount-pelmo-made-by-the-setting-sun.html