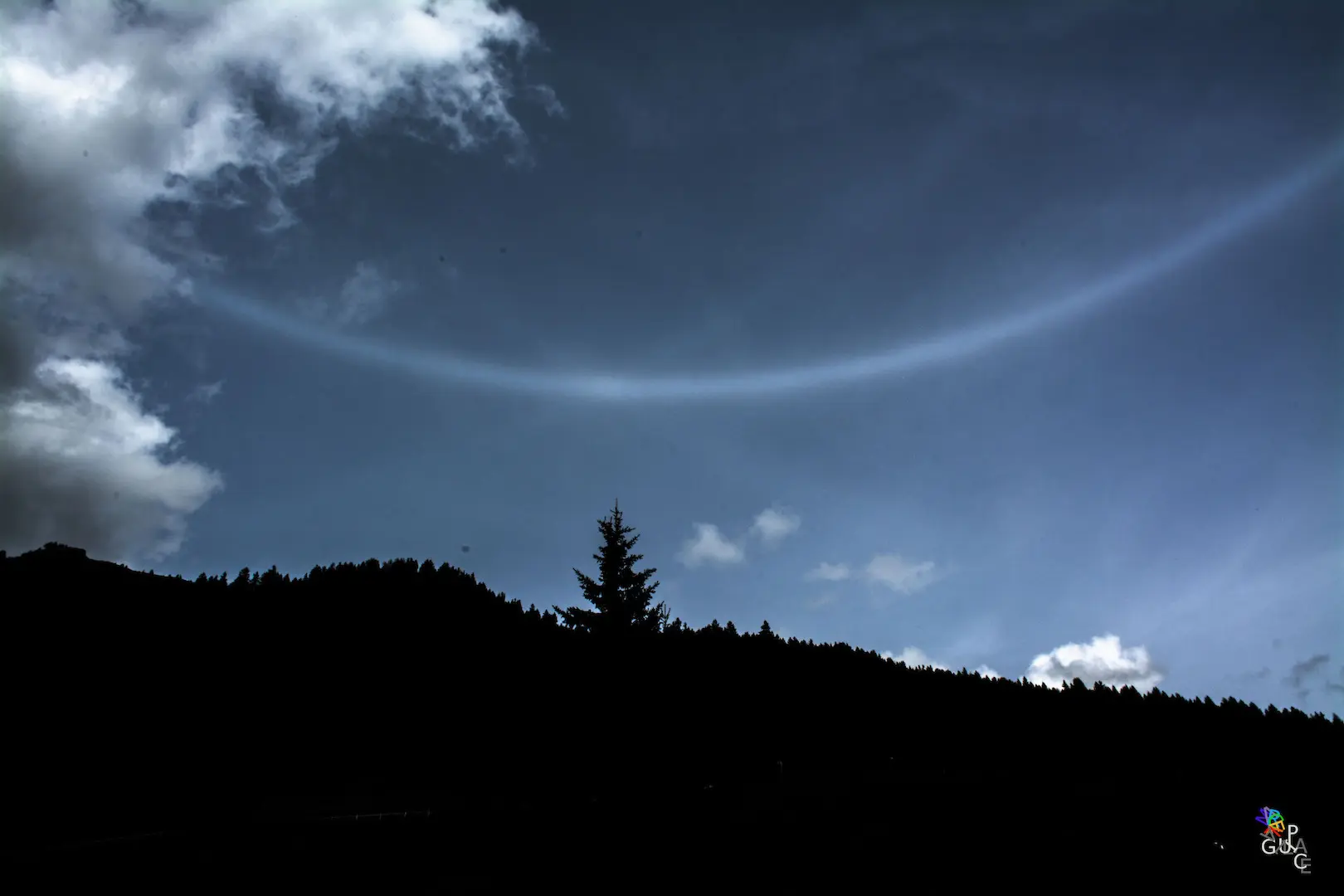 Parhelic Circle – Wegener Arc – Parry Arc – and Circumscribed Halo
Pieve di Livinallongo, 2 Maggio 2015
Attirata dalla formazione di un alone solare con Arco di Parry mi fermo a Pieve di Livinallongo per fotografare.
Mi accorsi che dal lieve parelio a sinistra del Sole partiva una linea circolare, parallela all'orizzonte, che attraversava tutto il cielo passando per il punto antisolare fino a ricongiungersi al parelio destro del Sole ( ricongiungimento quasi impercettibile per la presenza di nubi in corrispondenza del parelio destro).
Avevo solo letto e visto delle foto su questo raro fenomeno del Circolo Parelico  la cui formazione completa è visibile principalmente ai poli.
Il Circolo Perelico, si forma per riflessione della luce solare che colpisce cristalli di ghiaccio con forma esagonale allungata o piatta presenti nell'atmosfera e, in base al loro orientamento rispetto all'orizzonte, riflettono la luce del Sole creando questa linea bianca che si espande parallelamente all'orizzonte.
Il fenomeno è rimasto visibile per più di un'ora.
I stopped at Pieve di Livinallongo to take photographs, attracted by a solar halo with an Arc Parry.
I realized that the slightly visible left parhelion was drawing a circular line, parallel to the horizon, running through the whole sky to rejoin the right parhelion (reunification almost imperceptible because of the presence of clouds at the parhelion right).
I had only read about it and seen pictures of this rare phenomenon of the Parhelic Circle whose complete formation is mainly visible at the poles.
The phenomenon remained visible for more than a hour.
Questa è la posizione del Sole rispetto la località:
This is the Sun position with respect to the location: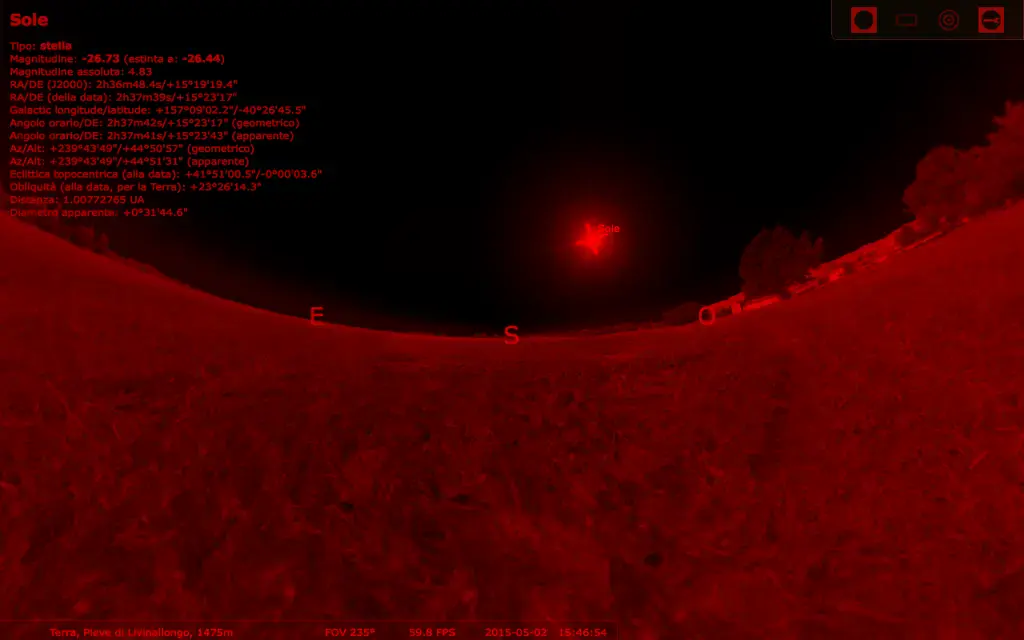 La due foto sottostanti mostrano la formazione dell'Alone Circoscritto:
The three photos below show the formation of the Circumscribed Halo:
Si distinguono: l'Arco di Parry, l'Alone circoscritto, il Parelio di Sinistra e il Circolo Parelico che attraversa il Sole
You can spot: the Arc of Parry, the Circumscribed Halo, the left Sundog, and the Parhelic Circle as it crosses the Sun.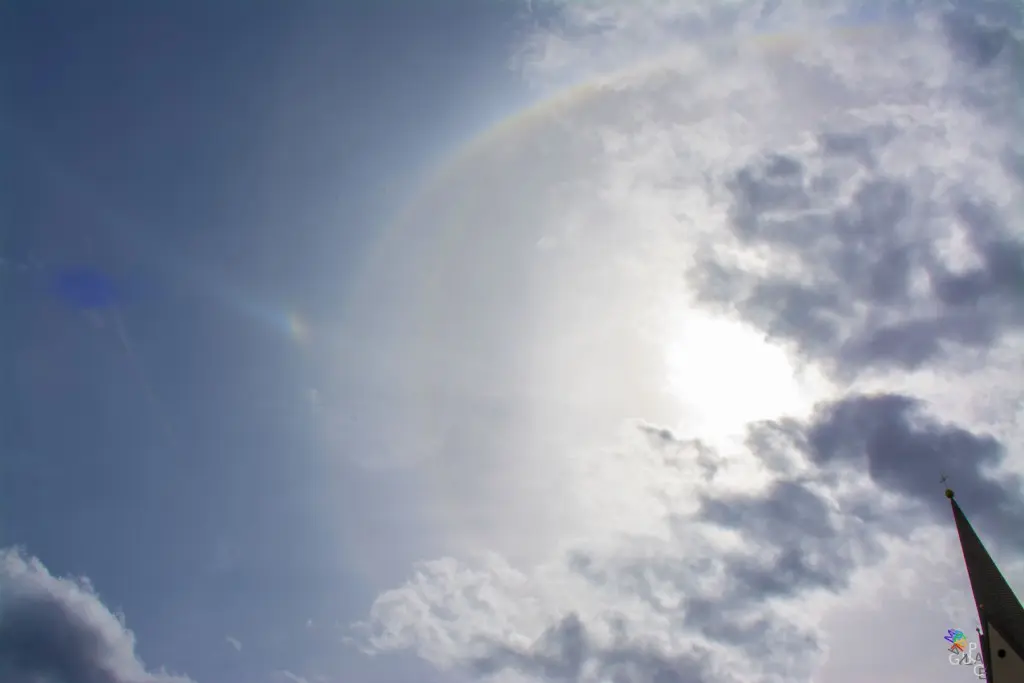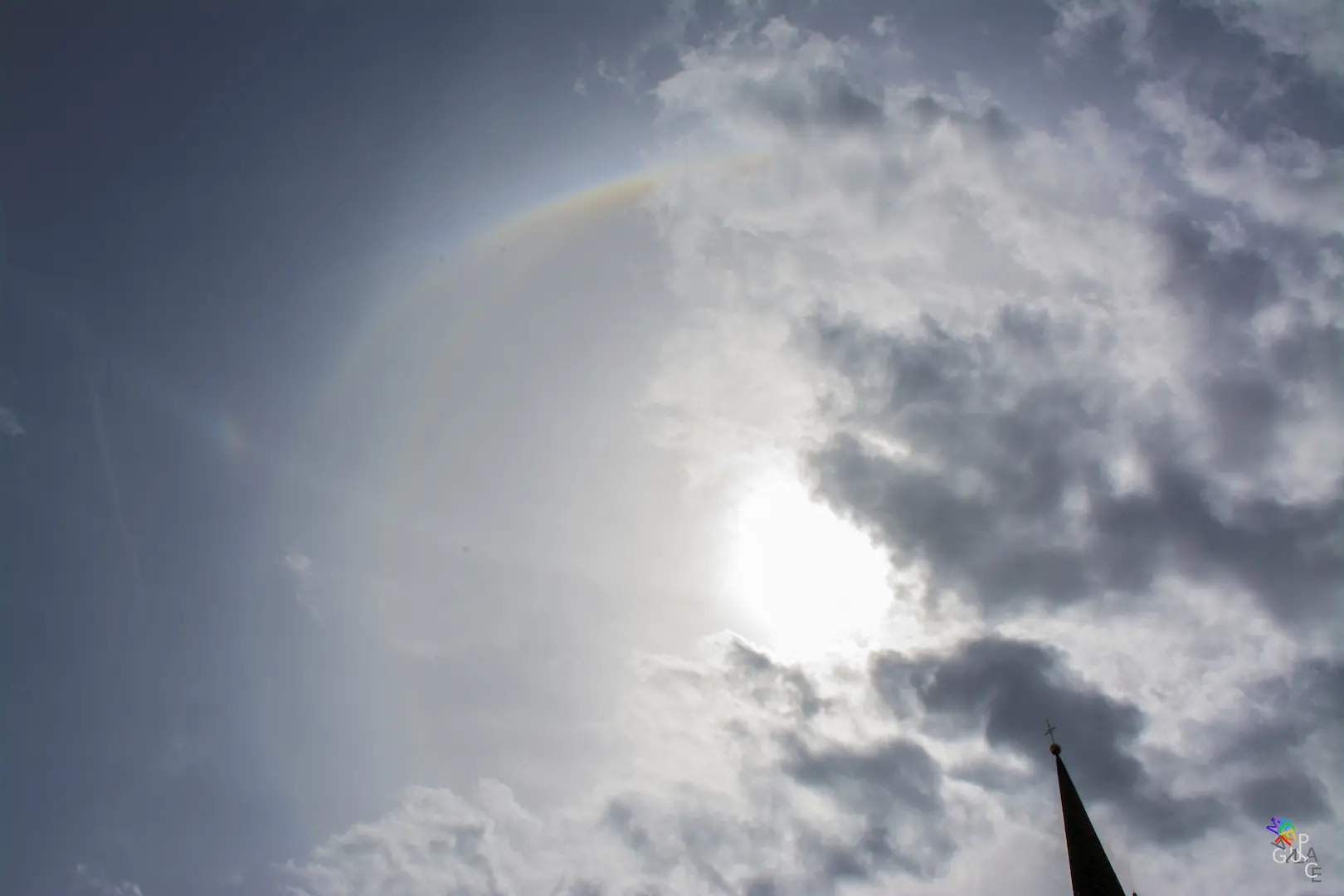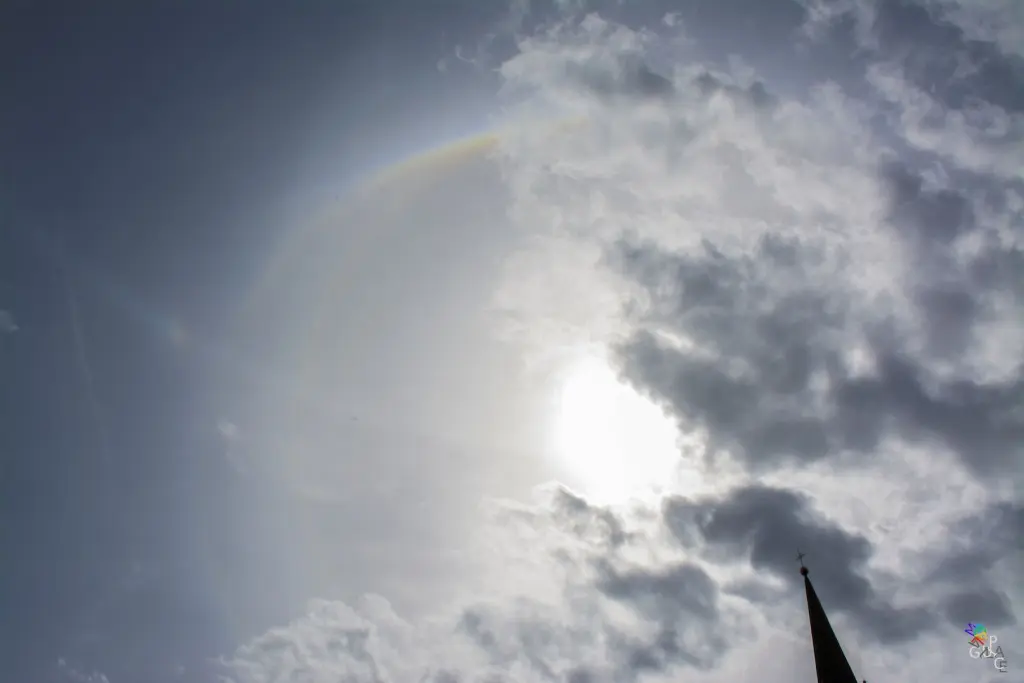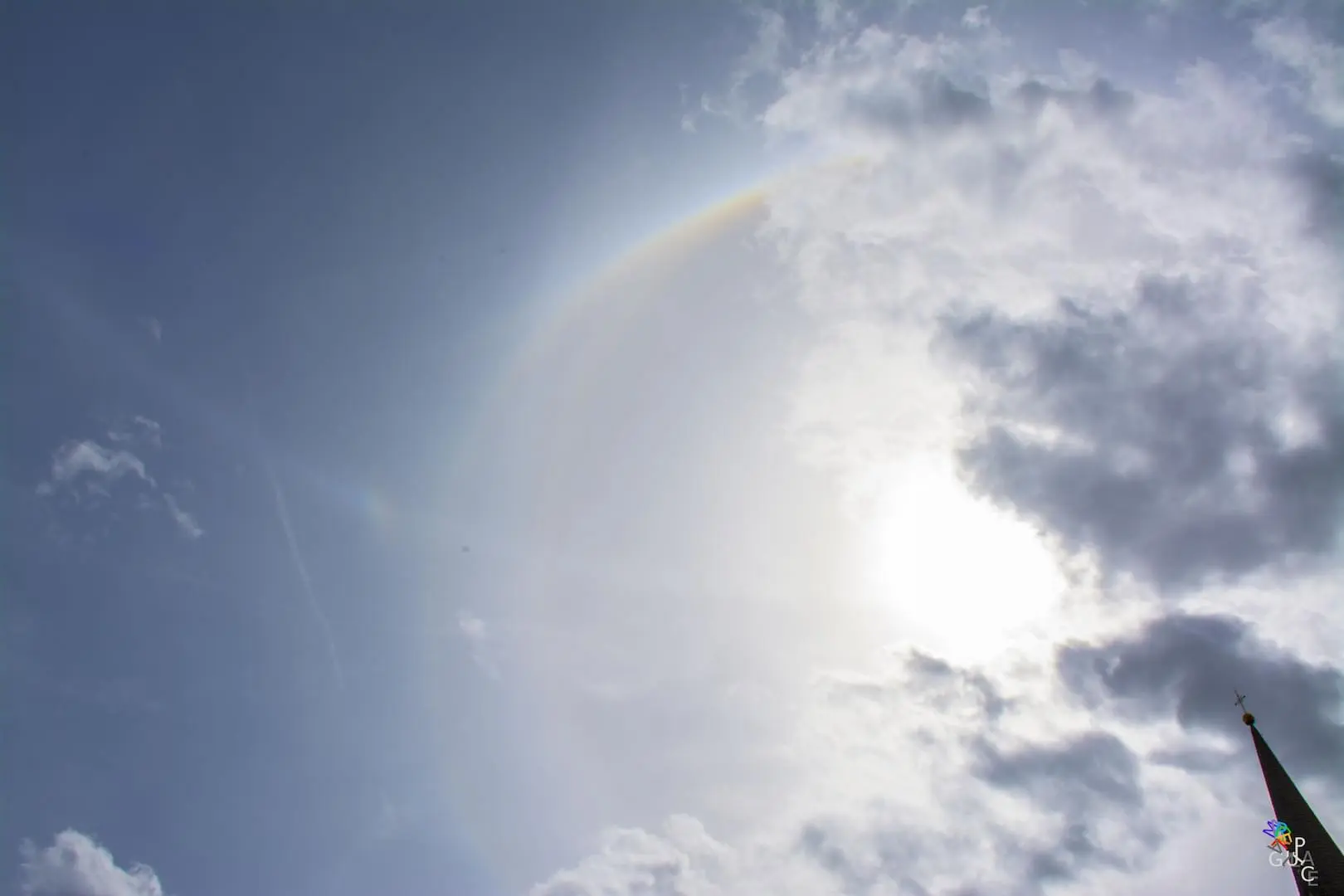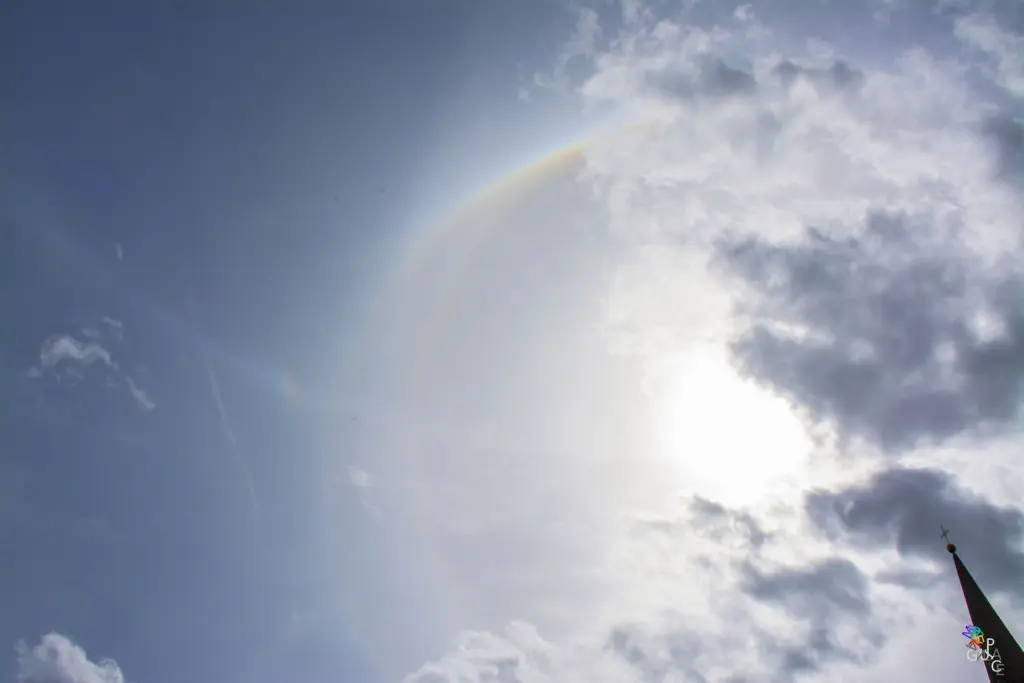 Spostandoci a SE il Circolo Parelico prosegue persistente…
To South-East the Parhelic Circle line is still persistent …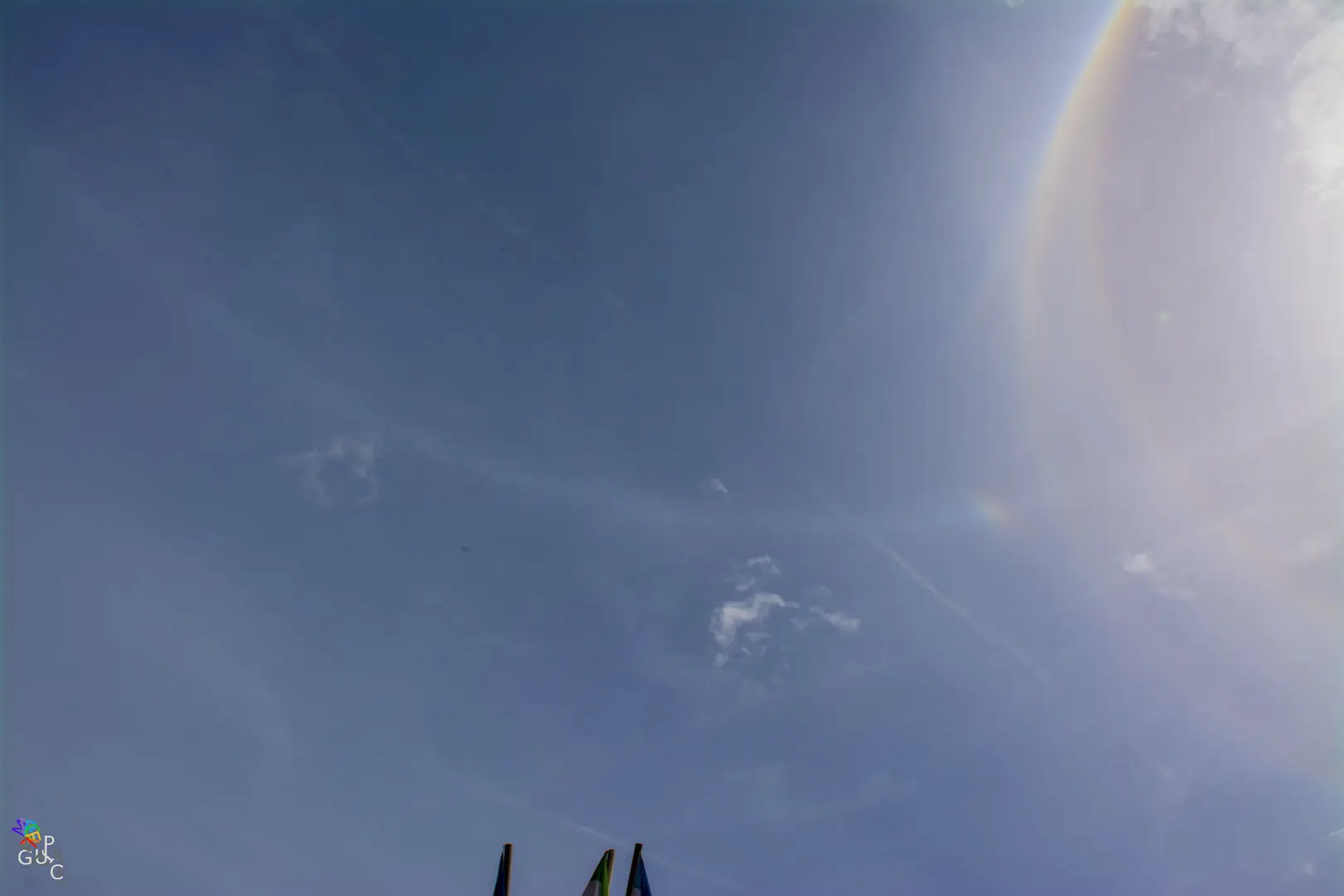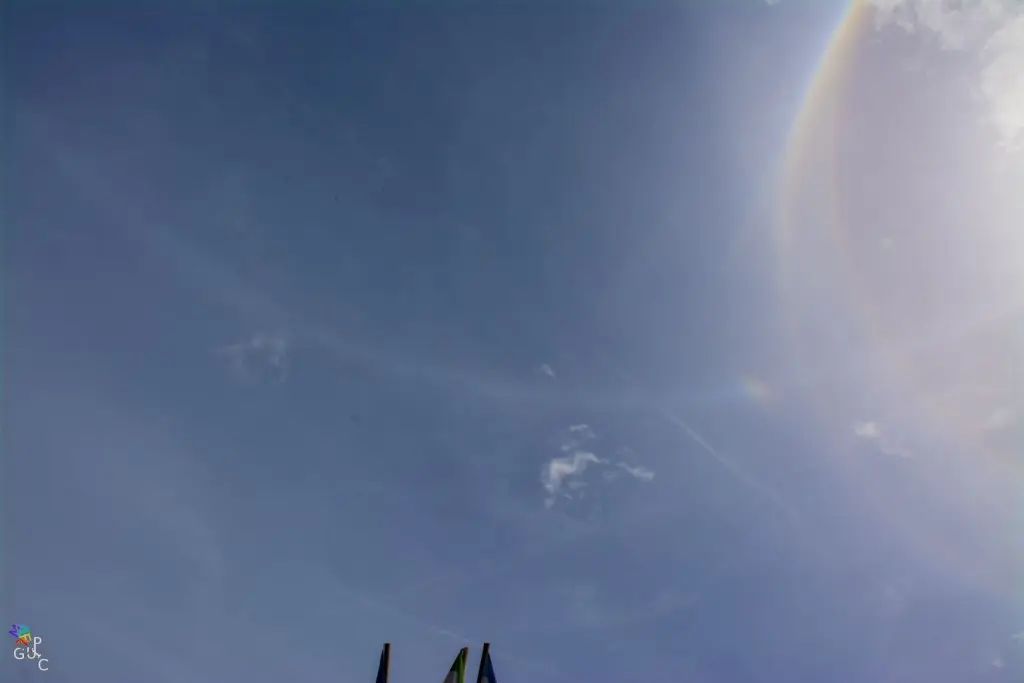 2/5/15, 3.45 p.m. Pieve di Livinallongo (Bl)
…ruotando ancora verso Est…
…It continues to East…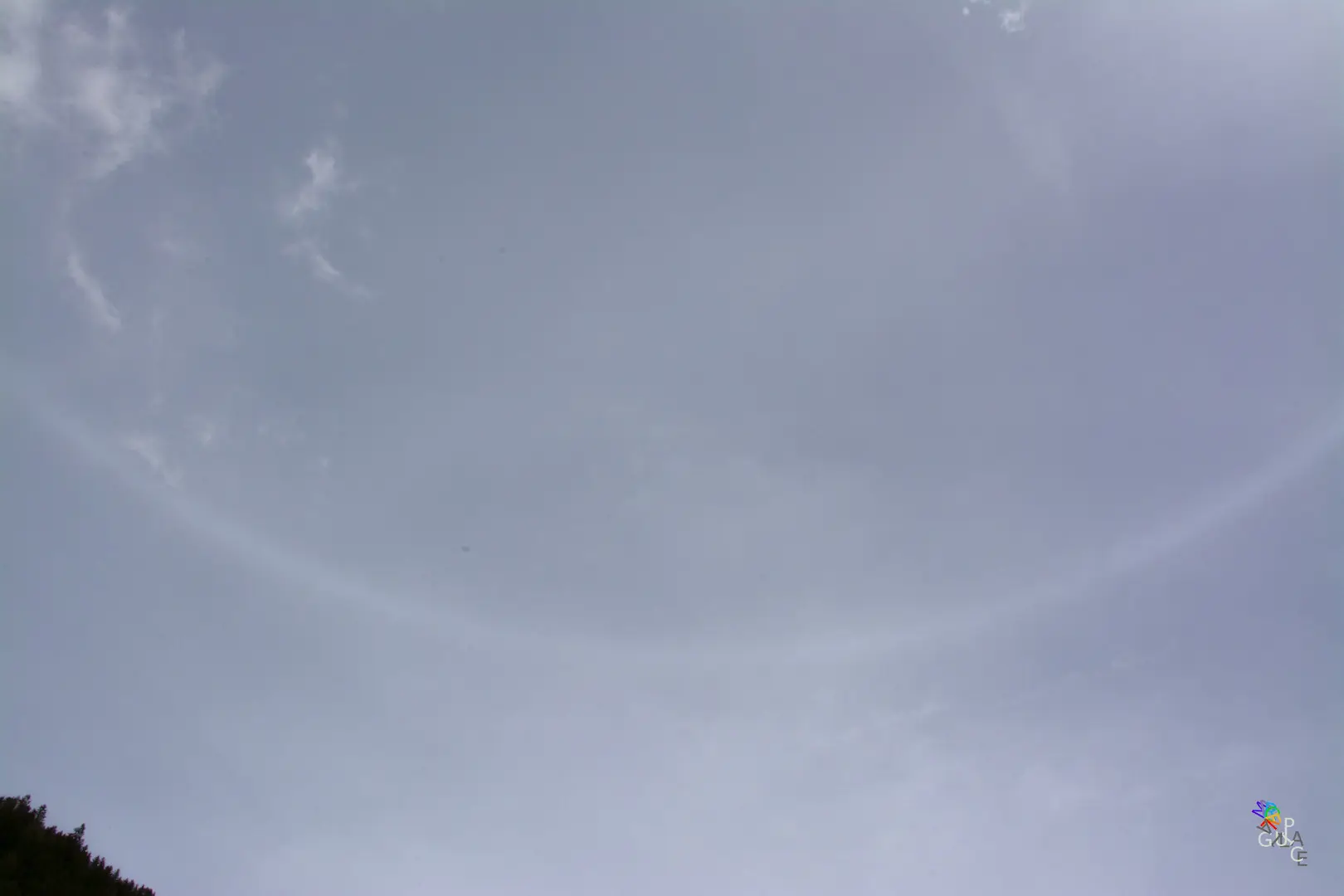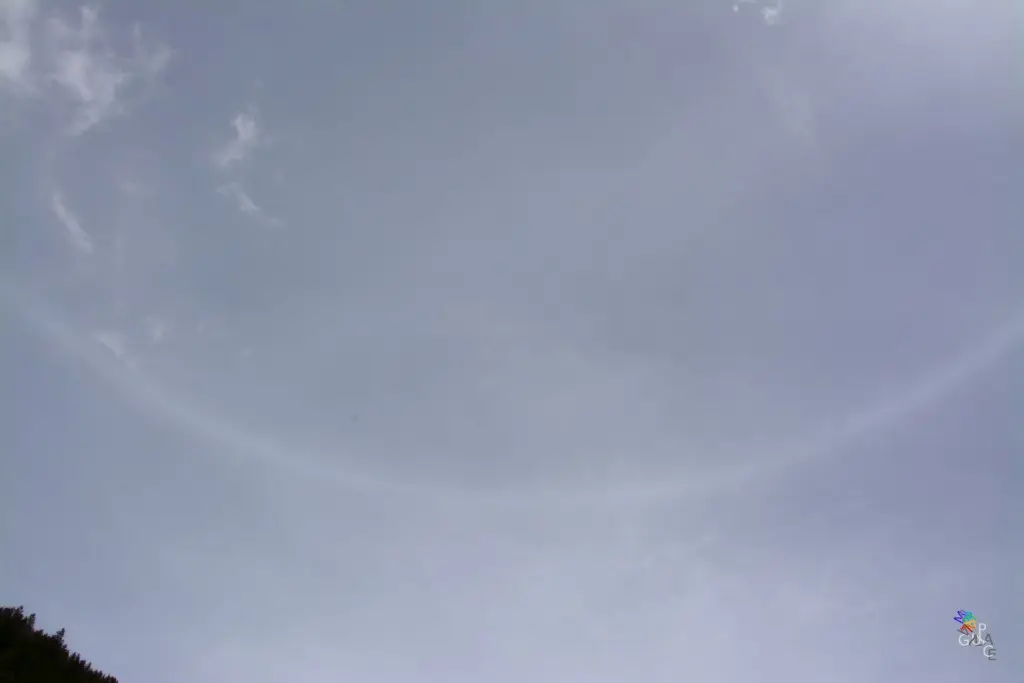 …fino ad arrivare nel punto antisolare (opposto al Sole) e oltre…
Until it reaches the Anthelion (exactly at the opposite of the Sun) and continues beyond…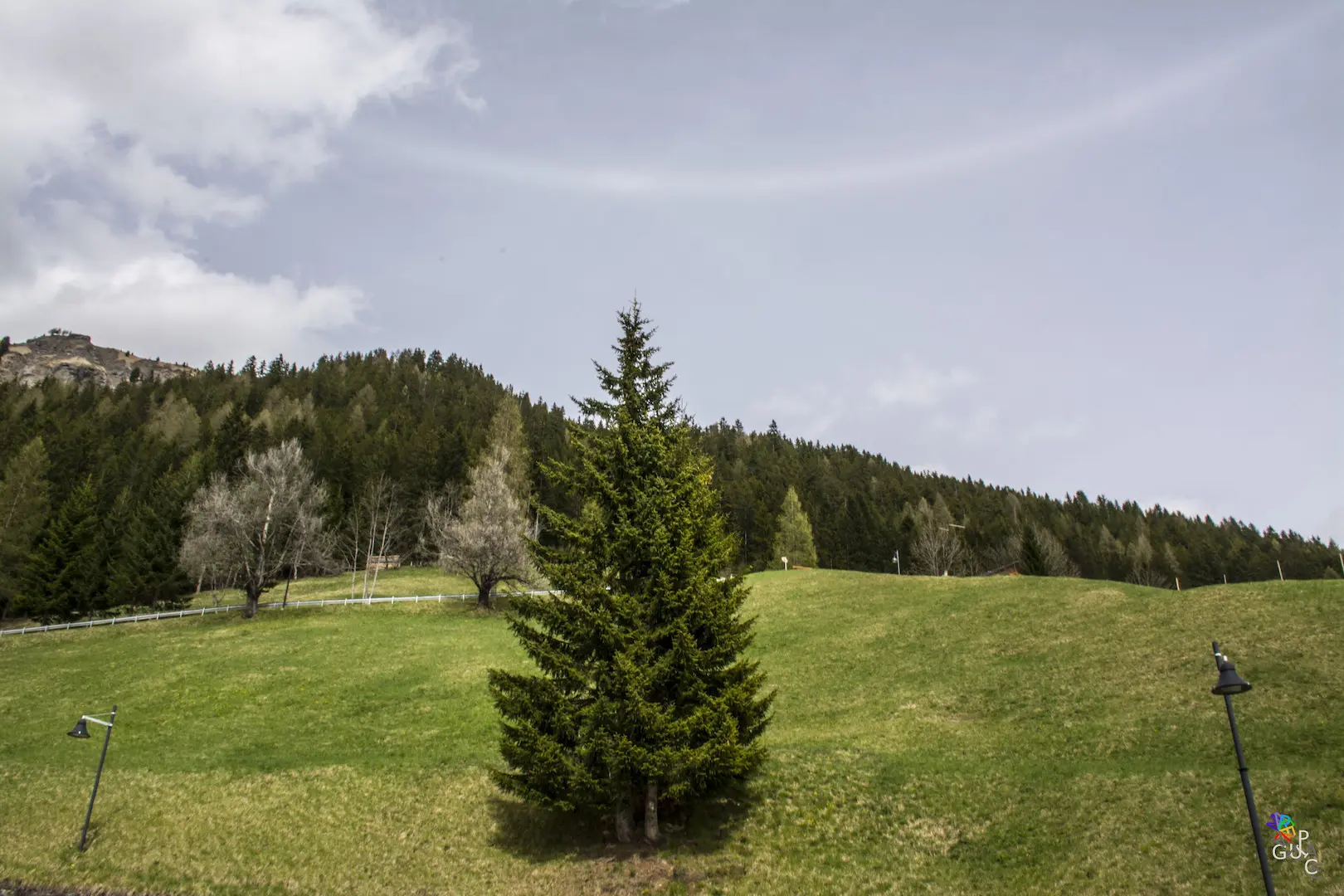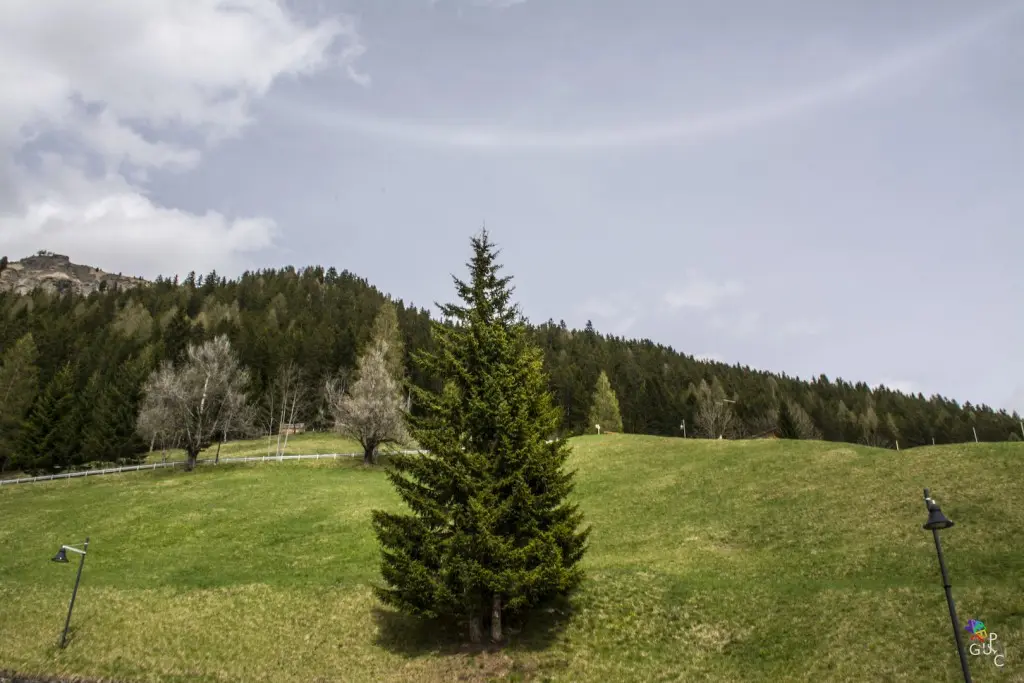 Da notare, in questa ultima immagine, un punto tangente al cerchio che appare più luminoso dal quale si dipartano dei raggi incrociati: un raro esemplare di arco di Wegener. Quel punto dovrebbe corrispondere all' esatto opposto  del Sole. Ecco nel dettaglio:
In the last image you can see the Anthelion, a point that is tangent to the circle, brighter than the rest of the line and from which it seems that some crossed beams start: a rare Wegener Arc. That point lies at the exact opposite of the sun.
Here it is: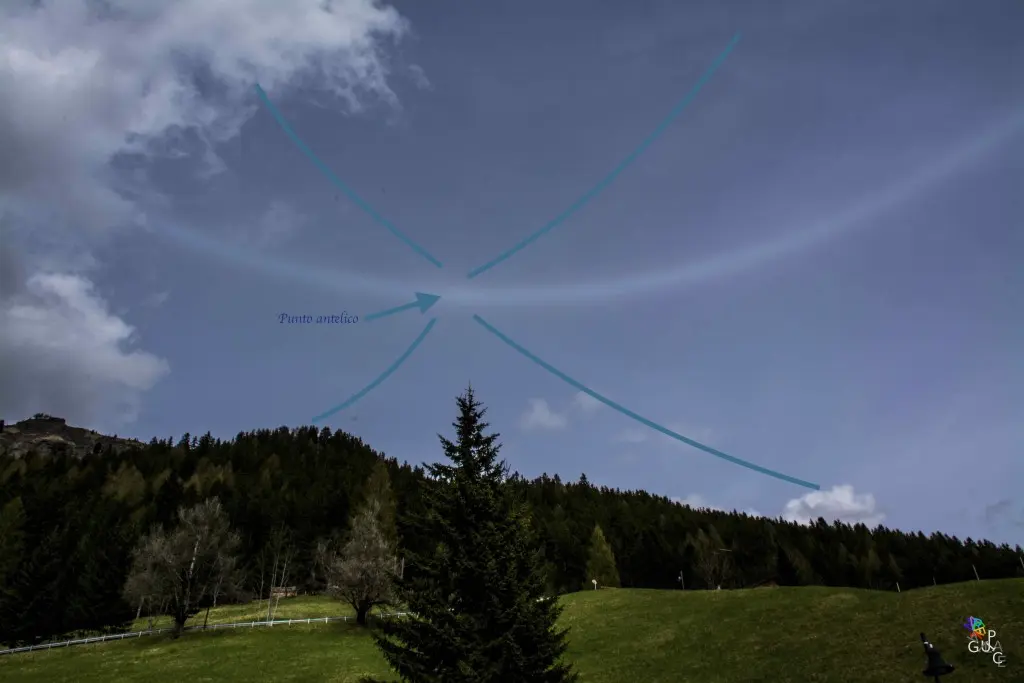 Punto antisolare e Wegener Arc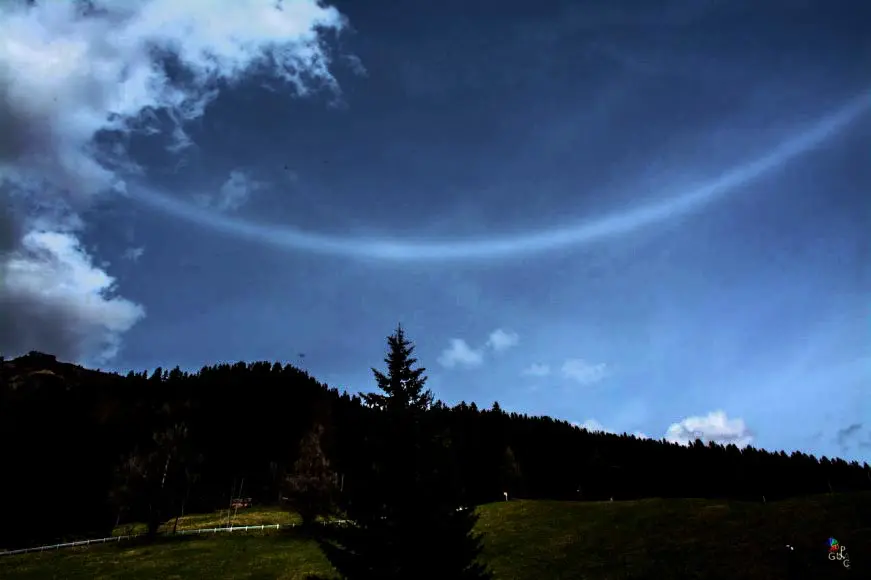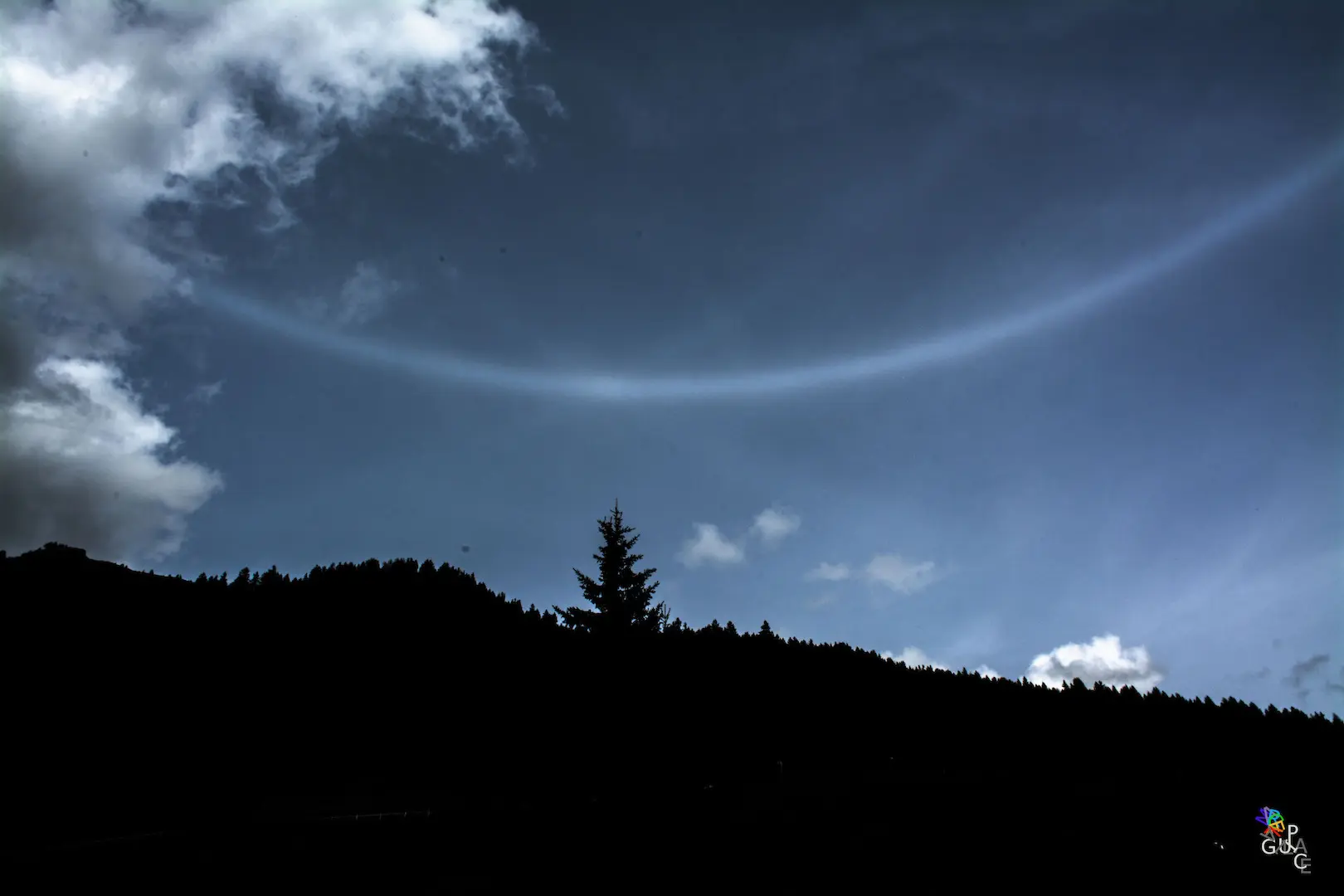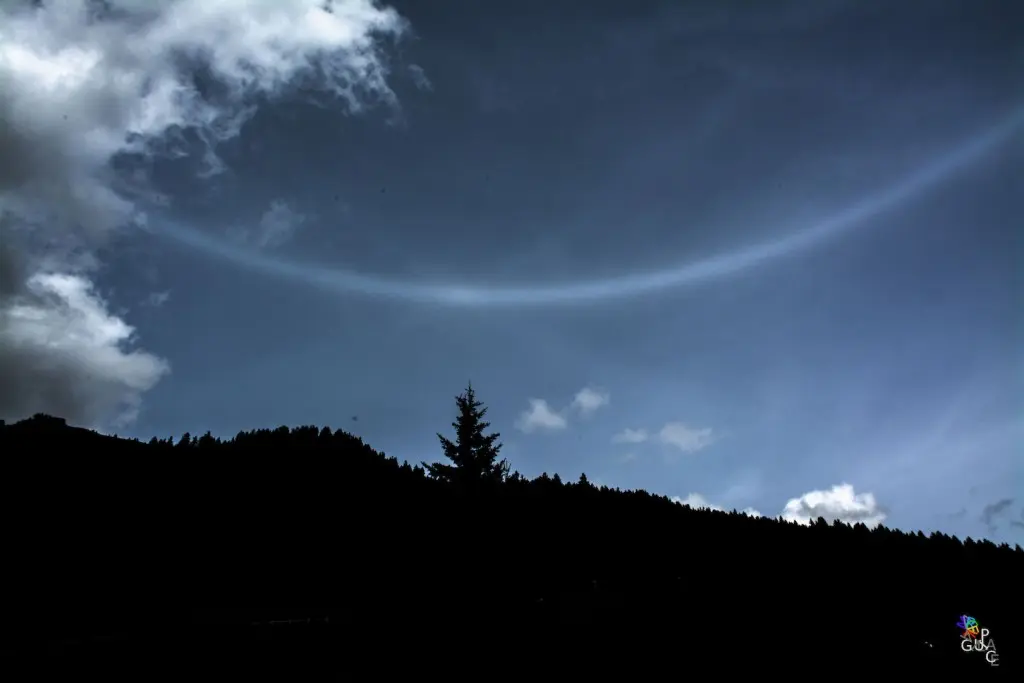 Il filmato mostra quello che in un'unica foto non sono riuscita a riprendere: il Circolo Parelico integrale.
The movie shows what I couldn't take with a single image: the whole Parhelic Circle.